GentleBirth Childbirth Classes
After 15 years as a doula and a private childbirth class instructor, I chose to become a GentleBirth Instructor. Why did I choose GentleBirth over all the other options? Because it isn't a method, it's a mindset.
Jill Dillner – Founder of Wise Birth Choices and GentleBirth Instructor
GentleBirth Workshops are a unique, effective, and engaging way to prepare for the birth of your baby. While many childbirth education programs simply offer information about the process of childbirth, GentleBirth combines both birth science, brain science, and technology to provide parents with both helpful information AND evidence-based preparation for the marathon of labor.
GentleBirth Workshops include:
1 month complimentary access to the GentleBirth App

Mindfulness and Focus Training

Sports Psychology

Brain training for a positive mindset

Hypnosis

Hormones and Physiology of Birth

Comfort and Relaxation Techniques

Evidence-Based Care

Informed Decision Making

Skills for the Birth Partner

and more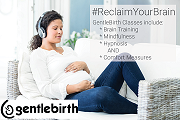 Three class options to accommodate your schedule and preference!
$275: Group Class, 1-Day Blended Learning Format — This class blends both in-person and online learning. Participants will enjoy one 9 hour day of in-person learning, followed by access to online video content and resources in the online GentleBirth Institute. This option is excellent for motivated individuals who enjoy self-paced and flexible learning.
$350: Group Class, 2-day Live Format — This class takes place over two days, with the full GentleBirth curriculum presented in-person. Participants will enjoy two 6.5 hour days of interactive learning. This option is excellent for individuals who prefer in-person instruction.
$375-$450: Private GentleBirth Class, Either Format — Prepare for your birth on your own schedule and in your own home! Depending on your preference, classes can be divided over several days, evenings, or weekends. Please inquire for availability and to schedule.
2-Day Traditional Class
The 2-Day Format is our traditional childbirth class offering the most individualized information. This training is two 6-hr classes conducted over two consecutive Sundays. This class covers all the course material including mindfulness, CBT, sports psychology, visualization, and advanced comfort measures to prepare your mind and body for birth. This is the best option for couples who are good classroom learners.
$350
1-Day Intensive Class
Our new 1-Day Blended Format combines in-person training with online video instruction. This intensive, 8-hour in-person class focuses on engagement and practical hands on skills but also incorporates additional online, self-paced learning via video instruction to be completed within 30 days.  You will receive access to our exclusive online Learning Management System following the in-person workshop.
$275
Private Class
I know schedules are tight, and time is a limited resource. Private workshops are done in your home based on your availability. They can fit either format of 1-Day Blended or 2-Day In-person formats. Text 732-754-9551 to schedule a private class.
$375-450